Equal Education Rights for All Rally
Date:                       October 30, 2022 EDT (Sunday)
Time:                      1:30PM to 5:30PM
Place:                      Supreme Court of the United States (SCOTUS) building.  (1 First Street NE, Washington, DC 20543)
Agenda:
1:30PM                  Opening Remarks
1:35-4:00PM        Speeches by Community Leaders, Parents and Students
4:30PM                  Matching to Union Square (0.8 miles)
5:15PM                   Closing Remarks at Union Square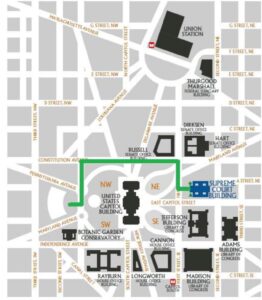 Directions:
The SCOTUS building is located on First Street NE between East Capitol Street and Maryland Avenue, adjacent to the U.S. Capitol and the Library of Congress. We are gathering at the main steps.
By Metro (Subway):
The closest Metro stations are:
Capitol South (Orange, Blue and Silver Lines, 0.3 miles)
Union Station (Red Line, 0.5 miles)
By Train:
Amtrak, VRE, and MARC trains service Union Station (0.5 miles).
By Car:
Street parking is FREE (even for metered spots) but limited. Check along East Capitol Street, Maryland Avenue and Massachusetts Avenue.
The closest public parking garage is Union Station Parking Garage (USPG) (30 Massachusetts Avenue NE, Washington, DC 20002) (0.5 miles).
Notice
Marine Corps Marathon will be held on Oct 30, 2022 at DC area, please allow extra travel time.
Marching Route:
Begin off Capitol Grounds from the SCOTUS building
North on the east sidewalk of First Street, NE to Constitution Avenue, NE
Cross Constitution Avenue, NE to the north sidewalk of Constitution Avenue, NE
West on the north sidewalk of Constitution Avenue, NE/NW to First Street, NW
Cross First Street, NW to the west sidewalk of First Street, NW to Union Square
Prohibited Areas:
Inside any Congressional buildings
On the steps of the United States Capitol
On the steps of any building on Capitol Grounds
In any area otherwise closed or restricted for official use
In roadways or any area routinely used for vehicular traffic
Prohibited areas (red) as identified in the US Capitol Grounds demonstration areas map
Restrooms:
The closest public restrooms are located inside the Union Station (50 Massachusetts Ave NE, Washington, DC 20002).
Guidelines:
What to bring and wear
Ensure that your slogan is in big, bold letters that can be easily read from far away.
A limited number of premade signs will be distributed on a first come first served basis by the organizer.
73% Americans support color-blind admissions
Merit Excellence Fairness
Judge by Content of Character, Not Skin Color
Support SFFA. Fair Admission for All.
Support Race Neutral Admissions
Equal Education Rights for All
Diversity =/ Skin Color
Fix K-12. Don't Scapegoat Asians.
Help Students in Need Regardless of Race
Stop Anti-Asian Discrimination
My Race Should Not Hurt Me in Admissions
I Am Asian American. I Have A Dream Too
No More Racial Stereotyping
Discrimination in the Name of Diversity Is Wrong
Stop Discriminating on the Basis of Race
Bring your own water and snack. Carry at least two bottles per person. Make sure you are hydrated. Pack small, lightweight and nutritious snacks.
Bring hand sanitizer. Wash your hands when possible and especially after touching surfaces.
Wear comfortable walking shoes
Bring a small backpack
Bring an umbrella or poncho in case it rains.
Know your rights
You have a constitutional right to peacefully express your opinion. Your exercise of First Amendment rights cannot disrupt others' use of the same public space for its usual purpose.
You have the right to videograph or photograph anything in plain view, including federal buildings and law enforcement activity as long as you do not interfere with the activity. Police cannot take or confiscate any videos or photos, phone, camera or other equipment without a warrant. Police are never allowed to delete data from your device.
Feel free to talk to reporters with your personal views. It's up to yourself to give reporters all or partial or no personal information.
Protect yourself and others
Maintain physical distancing and do not have close physical contact with others.
Stay close to your group
Be aware of your surroundings
Avoid confrontation with counter-protestors. If someone is causing any conflicts, call 911 and start videotaping.
Don't shout any discriminatory chants.
When marching, utilize sidewalks and obey all traffic regulations as not to impede pedestrian or vehicular traffic
Do not run. Avoid running to close a gap or move away unless absolutely necessary. Move slowly as a group.
Police Contact:
SCOTUS police 202-479-3341
Capital police    202-224-8891
Media Briefing Information
Click for media briefing information regarding the rally
Rally Agenda
Rally Speaker Bio
Rally Youtube Livesteam 
Click for Youtube Livesteam link for the rally.