Ivy League Universities' Discriminations against Asian-American Children & Our Efforts to Fight against Them
A: Key Facts on Ivy League Universities' Discrimination against Asian-Americans
Many studies have indicated that Ivy League Universities have been engaged in systematic and continuous discrimination against Asian-Americans in college admissions processes, using racial quotas, racially differentiated standard and stereotypes:
"Most elite universities have maintained a triple standard in college admissions, setting the bar highest for Asians, next for whites and lowest for blacks and Hispanics." They also use various stereotypes to discriminate against Asian-American applicants. -Daniel Golden, the Pulitzer Prize-winning Wall Street Journal
On average, Asian-Americans have to score on average approximately 140 point higher than a White student, 270 points higher than a Hispanic student and 450 points higher than a Black student on the SAT. -Thomas Espenshade (Princeton Professor) & Alexandra Radford (2009).
The share of Asian-Americans at Ivy League Universities stay at 14-18% over the last two decades, despite the fact that Asian-American population has more than doubled since 1993. "The relative enrollment of Asians at Harvard was plummeting, dropping by over half during the last twenty years, with a range of similar declines also occurring at Yale, Cornell, and most other Ivy League universities."-Ron Unz (2012)
"No other racial or ethnic group at these three of the most selective Ivy League schools is as underrepresented relative to its application numbers as are Asian-Americans." -Richard Sander (UCLA Professor, 2014)
Exhibit: Trends of Asian enrollment at Caltech and the Ivy League Universities, Compared with growth of Asian college-age population (by Unz)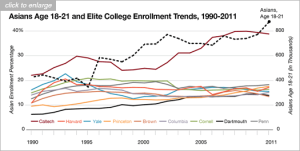 B: Achievements of AACE in Our Pursuit of Equal Education Rights
To fight against these discriminations, on May 15, 2015, we united 64 Asian American organizations to jointly file an civil rights violation complaint against Harvard with the Department of Education and Department of Justice As the largest joint action taken by Asian-American communities over the last decades, it caught enormous media attention and obtained support from members of the U.S. Congress, as well as many parts of American society. The followings
are key milestones:
May 15, 2015, representatives of Asian American Coalition officially submitted the complaint with Office for Civil Rights, Department of Education and Civil Rights Division, Department of Justice; held a news conference in Washington DC and met Congresswomen Grace Meng and Virginia Foxx, and Congressman Dana Rohrabacher, who personally spoke in our news conference.
May 15 – 31, 2015, more than 50 news reports from the U.S., Asia, Europe, Oceania and Middle East
May 19 – June 26, more than 20 editorials published in English Newspapers. On June 5, 2015, Wall Street Journal published an interview with Mr. Yukong Zhao, Chair of AACE Organizing Committee. This is the most comprehensive and in-depth interview on this subject in years by America's #1 newspaper.
June 22, 2015, US House Representatives Ed Royce, Dana Rohrabacher, Pete Olson, Glenn Grothman, and Dan Donovan issued a letter to Department of Education and Department of Justice in support of our complaint.
June 25, 2015 AACE received a letter from Office for Civil Rights (OCR), Department of Education, dismissing the complaint citing the reason: there is an ongoing lawsuit against Harvard by Students for Fair Admissions, Inc. AACE vows to continue our fight for equal education rights and plans to file complaints against other Ivy League Universities in near future.
July 20, 2015, in response to call from AACE, an Asian-American father filed complaint with OCR against Yale University, Columbia University, Duke University, University of Pennsylvania, Brown University, Dartmouth University, Cornell University, University of Chicago and Amherst College. All nine universities unfairly rejected her and she had to choose to attend college abroad. More than 16 her non-Asian classmates with lower grades, test scores and equivalent or less extracurricular accomplishments were accepted into Ivy League or other top colleges. This case underscores the severe and widespread discrimination against Asian-American applicants.
August 4, 2015, Members of the Congressional Asian Pacific American Caucus—Representatives Judy Chu, Robert C. "Bobby" Scott, Michael Honda, Mark Takano, Grace Meng, Ted Lieu and Mark Takai—issued a letter to Department of Justice in support of our complaint against Harvard.