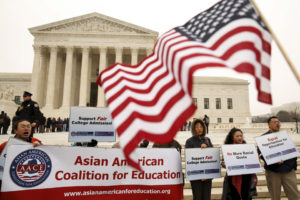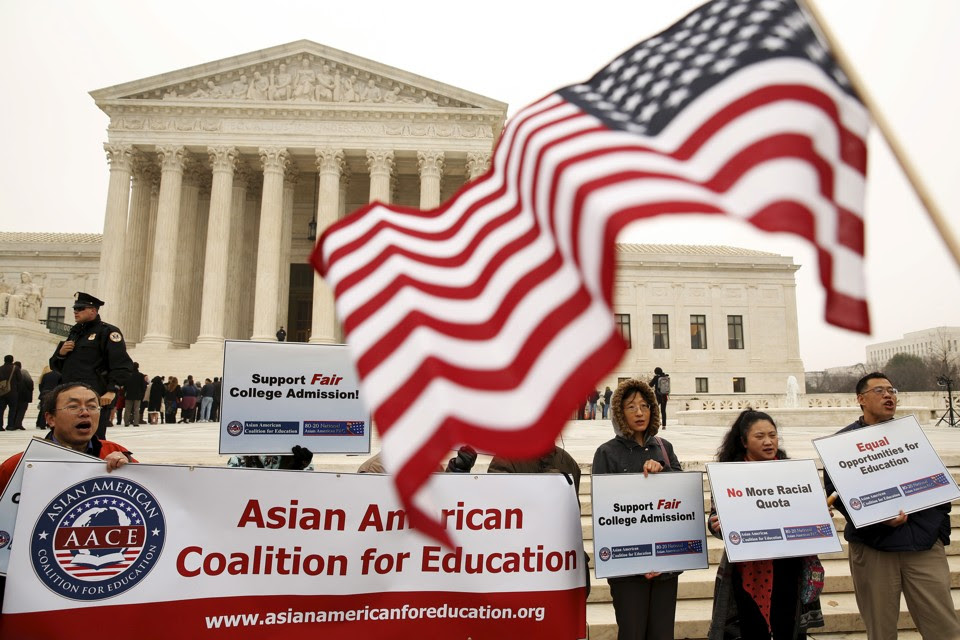 Asian-American Coalition for Education (AACE) is a non-political, non-profit national organization, the proven leader in fighting for Asian-American children's equal education rights.
Our journey began in late 2014 when AACE founders decided to unite Asian-American communities to fight against Ivy League schools' anti-Asian discrimination in admissions. On May 15, 2015, AACE founders united 64 Asian-American organizations and jointly filed a civil rights complaint with the Department of Education (DOE) and the Department of Justice (DOJ) to request that they conduct investigations into Harvard University's discriminatory admissions practices against Asian-American applicants. As the largest joint action taken by Asian-American communities over the last few decades, our complaint quickly drew enormous media attention and exposed Ivy League Schools' discrimination against Asian-American children on the national and international stages. It also garnered strong support from various groups in the American society, particularly bipartisan support from members of the U.S. House of Representatives. It was a historic event.
From this encouraging start, AACE has made great strides in our arduous fight for Asian-American children's equal education rights. The followings are a few highlights:
On September 10, 2015, representing 117 Asian-American organizations, AACE and Asian American Legal Foundation (AALF) jointly filed an Amicus Brief with the U.S. Supreme Court urging a total ban of racial discrimination in college admissions.
Since summer 2015, AACE has encouraged and supported Asian-American students who were unfairly rejected by top American universities to speak out. In response to our call, five discriminated-against Asian-American students have filed complaints with the U.S. Department of Education Office for Civil Rights (OCR) against Ivy Leagues schools.
On May 23, 2016, representing 132 Asian-American American organizations across the nation, AACE submitted an administrative complaint to the DOE and the DOJ to request investigations into Yale University, Brown University and Dartmouth College for their discriminatory admission practices against Asian-American applicants.
Since late 2015, AACE has been taking aggressive actions to support Asian Americans' fight against various attempts to unlawfully use racial balancing in K-12 education in Montgomery County (Maryland), Hartford (Connecticut), and New York City. In December 2018, AACE joined plaintiffs in a federal lawsuit against New York City Mayor Bill de Blasio's racial balancing act to expand the city's Discovery Program as a part of a reform on its Specialized High Schools. AACE adamantly opposes race-based admissions in K-12 education, engineered by politicians to prioritize ideology and politics over the educational needs of American children throughout the nation.
Starting from November 2017, our tireless efforts have generated tangible results: in response to our civil rights complaint against Harvard University in 2015 and that against Yale University in 2016, the Federal Government announced its investigation of Harvard November 2017 and that of Yale University in September 2018. As a major milestone in our pursuit of equal education rights for Asian-American children, these investigations have sent strong warnings to many other colleges, as the pressure is now on for them to refrain from unlawful admissions practices. Consequently, the admission prospects of Asian-American children at these schools can be significantly improved, as demonstrated by the case of Princeton University after a similar complaint by Asian-American students.
Between January 2017 and June 2018, the AACE leadership traveled to multiple sites to meet with government officials and other policy influencers to urge the U.S. Government to enact a policy reform in college admissions, to rescind Obama-era policy guidelines that promoted racial balancing and condoned discrimination against Asian-American children. AACE's policy recommendations were adopted by the Federal Government in July 2018 when it abolished the Obama-era policy guidelines and restored Bush-era policy guidelines that prohibit the illegal use of racial quotas and racial stereotypes in college admissions. This was a triumphant moment for AACE when our relentless efforts are accommodated by the Federal Government and crystalized into a major policy reform. It marks a new chapter for millions of Asian-American children. If the new policy is faithfully implemented, Asian-American children will have a higher and fair chance to be admitted into their dream colleges.
On July 30, 2018, representing 156 Asian-American organizations, AACE and AALF jointly filed an Amicus Brief with the United States District Court in Boston to oppose Harvard University's discriminatory admissions practices and to support the plaintiff (Students for Fair Admissions, SFFA) in its lawsuit against Harvard University. One month later, the DOJ joined our side with a United States' Statement of Interest that denounces Harvard's anti-Asian discrimination in admissions. On January 8, 2019, 270 Asian-American organizations joined us as cosigners on an updated Amicus Brief to continue opposing Harvard's anti-Asian discrimination. Our expanded alliance include a plethora of Korean-American and Indian-American organizations.
On May 20, 2019, AACE successfully held the First National Conference on Equal Education Rights at the National Press Club of Washington, DC. Taking an in-depth look into broad issues related to equal education rights, this historic conference featured presentations and speeches by leading scholars, community leaders and government officials from all racial backgrounds. The conference urges our nation to adopt open-minded, fact-based and solution-driven approaches to address its educational challenges.
Our records have proven: AACE has become the most effective and impactful civil-rights organization fighting for Asian American interests.
Our honorable fight is far from over. Many American colleges have not stopped their discriminatory admissions practices against Asian-American children. Much more must be done in the areas of public policies, legislations, and public opinions. It is imperative for us to carry on our endeavors to abolish racial discrimination in college admissions and other educational aspects for our children and all future generations of this great nation.
AACE uses the following democratic approaches to advance our cause:
Implement media campaigns and community outreach to increase public awareness and expand our alliance;
File administrative complaints and/or take legal actions against institutions that discriminate against Asian-American applicants;
Encourage and support discriminated-against Asian-American students to file individual complaints or take legal actions;
Advocate for policy and/or legislative changes in favor of equal education rights;
Conduct sound research and publish position papers on relevant policy and legal issues.
Please join our fight against racial discrimination in college admissions. Please take actions: